SPORTLID FOR TANGO | TOYOTA HILUX
The Next Generation of SportLids
The next generation of SportLids
This latest generation SportLid is packed full of technology never seen in a ute or pickup cover before. The strong aluminium chassis and impact resistant ABS plastic exterior allows this lid to be customised in a multitude of ways. You now have the freedom to add an OEM or PRO-FORM SportBar directly to the lid, or roof racks, bike racks and other accessories. The premium version also incorporates central locking and touch pad opening.
SportLid for Tango is designed to work with under rail bedliners and SportGuard.
FEATURES
Premium Features
TANGO Mounting
Additional
• SportBar compatible
•75kg rated accessory channels
• Quick release removal without tools
• Key lockable (on to tailgate for max security)
• ABS plastic exterior with aluminium chassis
• Weather tight
• Interior light
• Tango accessory track mounted
• Wide opening angle
SportLid for Tango is offered in standard or premium options.
With premium you can enjoy the extra benefits of:
• Central locking with your factory key fob
• Electronic touch pad opening
• Automatic LED light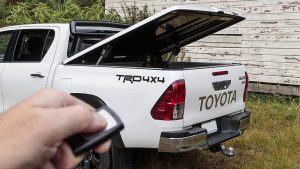 SportLid for Tango is mounted on the clever Tango track mount, allowing several key benefits:
• Internal accessory docking platform to add our LoadMaster bed divider and/or tie down bolts.
• Bed rail protection
• Easy on/off of the SportLid
• Remove the SportLid and mount racks direct to Tango
Integrated top channels make accessorising with racks easy

Direct Sportbar mounting allows for greater bed access

SportLid interior - mounted to Tango rails

Sportlid fitted with PRO-FORM Sportbar

Textured lid with Rhino-Rack roof racks

Smooth painted finish without Sportbar or Racks

Fit your life with easy accessorisation

Fit your life with easy accessorisation
Make it your own
BOLT ON SOME STYLE
Unlike competitor products, SportLid for Tango's unique hinge and aluminium construction allows the SportBar to be mounted directly to the lid. This gives you far greater access to the pickup bed. SportLid for Tango accepts both PRO-FORM or OEM SportBars.
SELECT YOUR FINISH
Choose between a smooth paint ready surface or a more rough and ready textured black plastic finish. Both options us our tough ABS plastic.
FIT YOUR LIFE WITH RACKS
SportLid for Tango is very customisable due to the integrated T-channels which runs on the top of the lid. Pair the SportLid up with Rhino Rack or Thule accessories to get the most of your lid. The T-channels are supported by the lids aluminium chassis giving it a 75kg dynamic load rating and giving you total confidence in its ability of carrying bikes, skis, fishing rods, tents or anything your heart desires.
TANGO ACCESSORY PLATFORM
Tango is the base mounting platform for this SportLid – hence the SportLid for "Tango". Tango is an aluminium extrusion which runs along every side of the bed and features a vertical and horizontal T channel. This T channel allows you to plug and play many Thule and Rhino Rack accessories as well as tie bolts and our LoadMaster bed divider.
Go back to view other Toyota Hilux Revo Accessories
Click here >