Bedliner Over-Rail
Extra bed-rail protection
PRO-FORM over-rail bedliners provide extra bed rail protection by covering the top of the vehicle rails. Our over-rail bedliners are formed to fit your vehicle model perfectly and offer options to access the factory tie hooks. The over-rail bedliner is the best option for maximum protection without bed top accessories, particularly useful in high-use work environments.
PRO-FORM has over 20 years experience manufacturing bedliners for both OEM and aftermarket companies. In that time we have acquired all the skills necessary to make a perfect bedliner for your ute, pickup, or bakkie. We are premium bedliner manufacturers using the the highest quality materials with UV and chemical resistance additives, coupled with rigorous testing . This ensures every bedliner is made to last the distance. All our bedliners are moulded specifically for that vehicle model to ensure a perfect fit which maximises bed space and enhances the vehicle appearance. Depending on your liner application, we can offer an over-rail or under-rail bedliner option for most models.
We have an extensive range of plastic drop in over-rail bed liners for a range of double cab, extra cab, single cab pickup trucks. We manufacture plastic bed liners for over 80 model variations including Toyota Hilux, Toyota Landcruiser, Nissan Navara, Ford Ranger, Mitsubishi Triton L200/Strata, Fiat Fullback, Mercedes X-class, Mazda BT-50, Ford Ranger, Ford Courier, Isuzu D-Max, Holden Colorado, Holden Rodeo, Holden Commodore, Volkswagen Amarok, Chevrolet Colorado, Mahindra, Great Wall motors, Tata Xenon and many more. See the "Additional Information" tab below for our full application list.
KEY FEATURES
Compare Bedliners
Additional Information
Extra bed-rail protection
Super tough – constructed from a quality high-density polyethylene (HDPE) plastic
Built to last with UV and chemical resistance
Non-drill fitting
Access to factory tie hooks, sometimes with the use of additional brackets
Tailgate cap-on or cap-off option
Made in New Zealand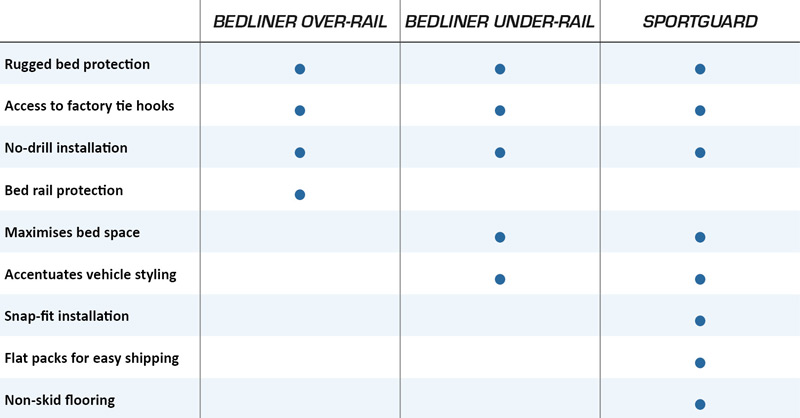 Reach factory tie hooks for maximum convenience

Access to factory tie hooks

High quality finish and design

Tailgate cap on (as per this example) or cap off option

Isuzu D-Max double cab over-rail bedliner

Mitsubishi Triton L200 over-rail bedliner

Toyota Hilux J-deck over-rail bedliner

Toyota Hilux J-deck single cab (5 hook) over-rail bedliner

Toyota Hilux J-deck single cab (5 hook) over-rail bedliner

Nissan Navara NP300 no-rail version

Nissan Navara NP300 no-rail version
Why are PRO-FORM Bedliners so good?
Fits Like a Glove:
Every bedliner made, starts with a highly comprehensive mapping of the pickup truck bed. We 3D map and analyse every little contour and groove of the trucks bed so we can develop the perfect fit which will allow access to factory tie hooks and ensure to maximise the space of your pickup bed. This is also why Pro-Form bedliners look so sleek and contoured.
High Quality Plastic
Plastic sheet is the core ingredient of a bedliner. To ensure we get the most consistent, best quality plastic sheet for bedliner applications we manufacture our own plastic sheet in house using some of the southern hemisphere's largest plastic extruders. We use only the best quality high density polyethylene materials and add in UV and chemical resistant additives to ensure it outlives your trucks life through every knock, smack and whack you would expect in the toughest high-use environments. We've got your bed covered, whether it be in the sweltering heat of the Australian Outback or the freezing cold of Siberia.
Fitting Kit With Purpose
Fitting kits are the finishing touch which really set apart the fit and functionality of a good and bad bedliner. All of our liner fitting kits are non-drill and where applicable use super strong tape, aluminium extrusions and bolts which are designed to outlast the life of the truck.
Fit your Pick-up
View bedliners and other PRO-FORM products on your vehicle here.
Fit Your Pickup! >