SPORTLID II
Three-piece SportLid for SportBar mounting
SPORTLID II
PRO-FORM's classic SportLid range is simplicity packed full of features.
The SportLid II is part of our original SportLid range and is our three-piece lid with side pods to incorporate either a PRO-FORM or OEM SportBar. This lid, constructed from a twin-skin ABS plastic material is simple, effective and proven. This stylish SportLid provides your gear excellent protection from the weather and from thieves with its center lock button with key.
Our SportLid I is similar except that it is a single-piece lid which does not accept SportBar mounting. For more on our SportLid I please click here.
Available for a large range of double cab ute / pickup trucks, including Holden Colorado, Isuzu D-Max, Volkswagen Amarok and Mazda BT-50 – see the application list for the full list of suitable models.
KEY FEATURES
Compare Lids
Additional information
• Once installed, can be removed without tools in less than 2 minutes
• Lightweight and strong
• Three piece design allows for an OEM or PRO-FORM Sportbar
• Smooth painted or black textured finish
• Wide opening angle allows full bed access
• Secure your goods with a push button center lock
• Enhanced security with side mounted slam latches
• High grade hinges and gas struts make opening & closing easy
• Made in New Zealand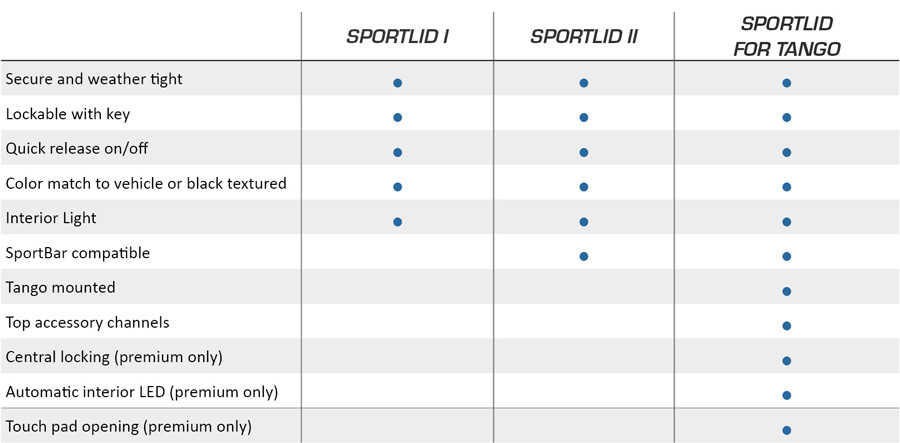 Push button lock with key

Volkswagen Amarok SportLid 2

Volkswagen Amarok SportLid 2

Volkswagen Amarok SportLid 2
WIDE OPENING ANGLE
The SportLid II has been designed to have an extra wide opening angle for ease of access and in the case of carrying tall loads.
QUICK RELEASE ON AND OFF
Once installed the SportLid II can be removed in just moments with our quick release wing nuts – no tools required. Simply un-wind the wingnut on each side, pull the front locking pin and then lift the lid off of it's mounted bracket. A great convenience for when you need to get the dirt bikes on the back!
PICK YOUR FINISH
We can offer the SportLid II in two finished. Either choose the black textured option which is unpainted and very durable, or the smooth painted finish which matches the rest of the vehicle. The choice is yours.
LOCKED AND SECURE
The SportLid II keeps your goods safe and secure with a center key lock which is mounted to a catch on each side of the pickup tray. To open the lid, simply unlock using the key and then push down on the lock button.
Fit Your Pickup
See what other PRO-FORM products are available for your ute / pickup truck here!
Fit Your Pickup! >